Diversified Woodcrafts Octagon Workstations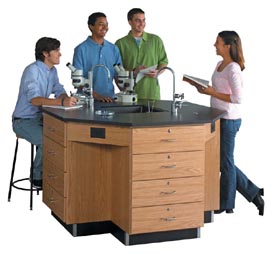 Crafted of solid hardwood/oak veneers, and finished with a chemical resistant, earth-friendly UV finish. Both units provide ample space for 4 people and are available in 56" or 62", solid 1" epoxy resin or phenolic resin tops. The pedestal with apron comes equipped with 4 drawers, the drawer cabinet unit comes equipped with 16 smaller drawers.
Look for the FASTRAK symbol on select pieces indicating that these products ship within 5 days on orders under 30 tables or 6 cabinets total. Why wait when you can have your science furniture on your schedule!
Octagon Workstation with Sink
Octagon Workstation without Flat Top