ChurchPartner offices and warehouse will be closed on Friday, April 19 in observance of Good Friday. We will re-open on Monday, April 22. Have a most blessed and joyous Easter!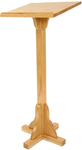 Lecterns and Podiums
Check out our excellent selection of quality podiums and lecterns. From inexpensive to fancy, we've got a lectern for every part of your school from classroom to lunchroom!
---
Save on Oklahoma Sound # 70 Portable Lectern and Acrylic Lecterns
Now through March!