ChurchPartner offices and warehouse will be closed on Friday, April 19 in observance of Good Friday. We will re-open on Monday, April 22. Have a most blessed and joyous Easter!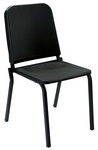 Music and Choir Room
Private School Partner offers excellent value on it's selection of choir and music room furniture! Our stacking choir and practice chairs save you over the more expensive brands while providing the same durability! Music stands are a great value through PSP!