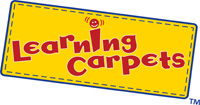 Learning Carpets has joined the Children's Factory® family of leading early-childhood brands! We've compiled the very best products to become your one-source solution for furnishing creative learning spaces!
Our printed educational rugs are 100% polyamide and able to withstand rugged wear and tear. The 3-ply felt backing increases sound and thermal insulation and prevents wrinkling and creasing.
Welcome Learning Carpets!!