Our office and warehouse will be closed on Friday, July 3 so our staff can be with family and friends on this Independence Weekend. We will resume normal operations on Monday, July 6. Have a safe and enjoyable weekend.
Diversified Woodcrafts Tall Storage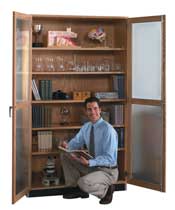 Diversified Woodcrafts has designed and assembled a wide variety of tall storage cabinets. Best mounted against a wall for security, these units have ample opportunity for different purposes and great storage. From microscope and supplies - you can even keep your skeleton in a closet!
All tall storage cabinets feature:
Solid hardwood, solid oak and oak veneer construction
Protected by a chemical resistant, earth-friendly UV finish
3/16" tempered glass doors designed to crumble when broken preventing large dangerous shards (where applicable)
Three-point locking system
Adjustable 1" thick shelves with 40lb./sq.ft. weight capacity
Tall Storage with Glass Doors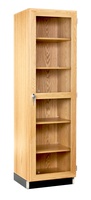 23161
Regular Price:

$2,113.00

Your Price:

$893.95

(58% savings)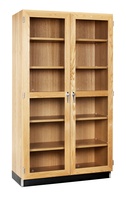 23174
Regular Price:

$3,019.00

Your Price:

$1,276.95

(58% savings)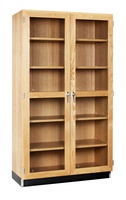 23175
Regular Price:

$3,432.00

Your Price:

$1,451.95

(58% savings)
Tall Storage with Oak Veneer Doors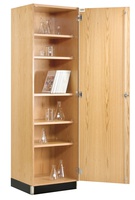 23160
Regular Price:

$1,570.00

Your Price:

$663.95

(58% savings)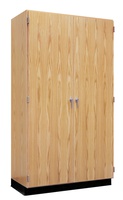 23172
Regular Price:

$2,021.00

Your Price:

$854.95

(58% savings)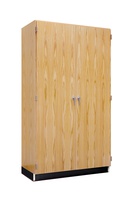 23173
Regular Price:

$2,337.00

Your Price:

$988.95

(58% savings)
Microscope Storage Cabinet

23177
Regular Price:

$2,062.00

Your Price:

$871.95

(58% savings)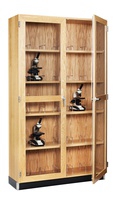 23178
Regular Price:

$2,667.00

Your Price:

$1,127.95

(58% savings)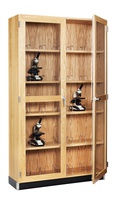 23179
Regular Price:

$3,160.00

Your Price:

$1,336.95

(58% savings)
Additional Storage Pieces