Performance Workstation Components
---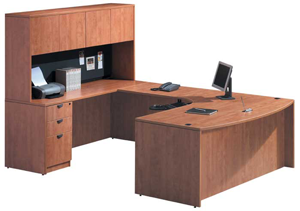 Performance Office Furniture specializes in customizing your workspace to your needs by offering the widest selection of workstation components imaginable! Choose from multiple desks, returns, bridges, file storage and book storage options to truly make your space - YOUR space!
How do you choose? Its easy!
Measure your available work space. Keep in mind you'll need walk room!
Decide what work surface and storage needs you have.
Choose your items below beginning with your desk and moving through each category.
Still have questions? Call us at (877) 369-8646 and our helpful furniture experts will lend a hand!
Private School Partner brings a wide range of office furniture options to the school market. Understanding both the restrictions of budgets and the need for quality and uniformity, Private School Partner has selected many mid-range desk and office furniture options to provide a high quality product at an exceptional price.
Whether high pressure laminate or fine wood veneered furniture, Private School Partner will save you time and money on your very important purchase of desks, credenzas, bridges, stack-on storage, executive chairs, managerial chairs, task chairs, and side chairs.